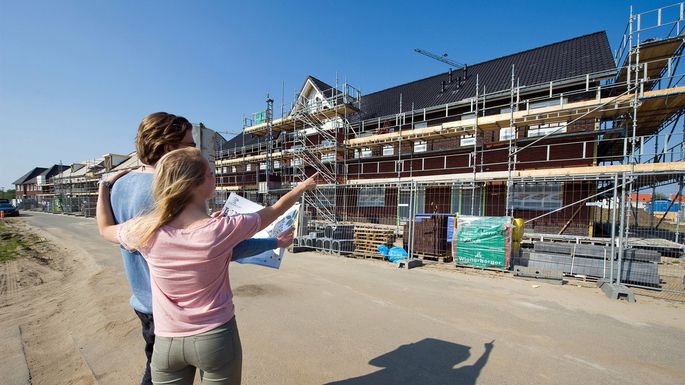 Buying New Construction? Why You Should Have Your Own Realtor.
When you're house hunting, the attraction of new construction is undeniable. You get to be the first to live in the untouched  home. It's full of brand-new appliances and the finishes and treatments that you picked to fit your unique style and taste. And you won't have to worry about making any cosmetic or structural upgrades for years.
If you are interested in buying a new construction, the builder's agent will be ready to help you with the process. But make no mistake: You need your own realtor right out of the gate. Even if it seems like plug and play to sign up with the builder's on-site agent, you're going to want someone representing your side of the deal and thus managing your best interests.
What is a builder's agent?
When you buy a new construction, the home's builder or "Developer" is considered the seller, and the agent representing the builder is called the builder's agent or "Listing Agent"
It's important to remember that the builders agent's job or responsibility is to represent the best interests of the builder, not the buyer.
Why you should hire your own real estate agent
It's a good idea to have your real estate agent accompany you on your first visit to the new construction show home, Why? Because the builder (aka the seller) typically has a registration policy or rule in place that will prevent a real estate agent from representing you or earning a commission if they were not present for your initial visit.
This can bring about all sorts of problems down the road because if you are just window shopping and later on decide that you'd like your own agent it will likely already be too late.
A common misconception by buyers is the assumption that if they forego using their own real estate agent they'll get a better deal because the builder wont have to pay a commission.

– False. builders do not offer discounted prices in lieu of you not using a realtor. 
When buying new construction, here's what your real estate agent will help you with that you might miss out on if you stick with the builder's agent:
Negotiating extras: Want upgraded counters or appliances in that new home? Your agent can help you with all those extra perks, amenities, and upgrades. Depending on the market this isn't always going to be possible but you'll have better success negotiating these extras if you've got your own representation.
Recommending financing: A builder typically will have a "preferred" lender that it will try to steer you to, but your real estate agent can help make sure that you're getting the mortgage that works best for your situation. Shopping around is always wise, and you don't want the builder's agent pressuring you into using their suggested professional unless it's right for you.
Overseeing a home inspection: More often than not most will opt out of a home inspection at the recommendation of a builders agent. The reason they try and advise against an inspection is because typically newly built homes or condos are protected under Alberta New Home Warranty. The benefit of having your own real estate agent is they can make recommendations and offer advice on whether or not you actually need one.
Crossing the T's & Dotting the I's: If you've ever seen a builders contract you likely felt an immediate urge to notify green peace. These documents are often dozens or in some cases hundreds of pages long but despite the obvious environmental impact of all that paper, who on earth has the time or fundamental knowledge to digest all that information? More often that not people who are buying new construction are first time home buyers who've never even seen a contract. Which is all the more reason why it is so important to have a real estate agent with whom you trust, someone that you rely on to assist you in reviewing and understanding the details of your purchase.
Forecasting Value: The builders agents primary function is to know their own product and offerings inside and out. As a result they wont have much information of other comparable properties or communities outside of their developments. Where having your own real estate agent comes in handy is being able to use their market knowledge to look at a wide scope of similar homes and communities to ensure you're truly getting the best value for your money.
Weeding out the bad eggs: We've all heard it… The horror stories of people who bought into a dream only to find out later on it was actually a nightmare… Im talking about bad builders! Although it's becoming increasingly difficult for builders to cut corners the problem of poor quality still exists. This is why it's extremely important to do your diligence to ensure you're not buying into a builder who might have a bad reputation for quality, customer service or craftsmanship. If you've got a good real estate agent they'll be in the know and can offer advice on which builders to avoid.
How the builder's agent can help you
Fear not because its not all bad! The builder's agent can actually be a valuable resource in helping you make the right decision on purchasing a home. They've been highly trained on their specific properties and thus will be the perfect go-to when asking specific questions about the construction of your home or the community its being built in.
At the end of that day as a buyer of a new home what should be most important to you is walking away feeling confident and satisfied with your purchase. Having the collaborative efforts of your real estate agent & the builders agent is one of the surest ways to ensure you've covered all your bases.
– Best of luck & happy house hunting!