Calgary Inner City Real Estate
---
Calgary Inner City Real Estate, or Calgary City Centre as it's now know. Is the most desirable quadrant of the City. It is also one of the largest. Prior to 2016 This zone never existed. You either lived in the NE, NW, SE or SW. As Calgary began to grow and Real Estate Hot spots began to form the City finally realized that this quadrant could no longer be split up into one of the 4 previous quadrants. Instead it was a quadrant all of its own.
If you are looking for quick and easy access to down town and trendy shops and neighbourhoods then this is the zone for you. Most neighbourhoods in the inner city all offer a unique lifestyle and amenities. As the City of Calgary continues to grow it becomes more and more desirable for some people to want to remain in the heart of the City. It is for precisely that reason why Real Estate in this sector is generally more expensive and sought after.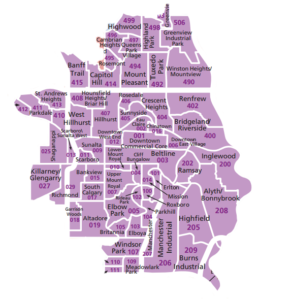 Despite the inner city being home to some of the oldest neighbourhoods in the City of Calgary, Developers have taken a significant interest in its redevelopment. Nowadays in this quadrant you will see a unique array of old character as well as touches of modern and trendy. Currently there is no shortage of new infills being built or multi level condos. As Calgary continues to grow there appears to be this ongoing trend of creating more and more building density in the inner city.
We have noticed a significant change over the last 5-10 years regarding what buyers are looking for. A decade ago a large portion of Calgary's upper middle class was seeking large homesteads with sprawling yards. Now things appear to have shifted, the culture in this portion of the City is "less is more". Developers are now building properties with a luxurious feel but low maintenance.
People in these areas are generally, active, fit, and hardworking. There is a real sense of belonging when you live so close to the City. Wether you ride your bike to work or use a ride sharing program such as car 2 go. If you want to be close to the action there are plenty neighbourhoods in the inner city that will for you.
As always if you have any questions about some of theses neighbourhoods feel free to contact us anytime.
View Homes in Calgary Inner City
---
View Condo's in Calgary Inner City
---